"Thank you for a very interesting program and pleasant atmosphere that we enjoyed yesterday. It takes a lot of preparation and energy to organize such a program and I would like to express my appreciation for your work. I am looking forward to our next joint venture."
"Thank you so much, Istik and Reut for the photos – lovely reminder of the great time we had yesterday. Thanks also to Amb. Eldan for the initiative. More power to your elbows."
"Sincerely grateful for the excellent, organized and very informative program, as well as for a warm welcome during the trip!
Special thanks for the photos!"
"Thanks for the perfectly prepared and organized trip! Shabat Shalom to you all"
"Thank you for yesterday's visit and not only for the royal banquet at the David Citadel Hotel and not only for the good wines that we tasted at Montefiore, wines that are witness of tradition. So not only for the good food and beverages, but especially for the foods and beverages of the spirit. And you personally in the role of Alcibiades (Greek leader).
Since yesterday, I inhabited the images of the Temple of Solomon, the beating heart of Judaism since thousands of years."
"Thank you the digital album of the visit, excellent brochure."
Following the Touristic Tour of Jerusalem (June 20th, 2019) Following the Touristic Tour of Jerusalem (June 20th, 2019)
Ambassador the event was magnificent – yourself and your team did such an impeccable event straight from the heart. It gives us so much strength to have such support and to know that public diplomacy in Israel, through your efforts is such a wonderful medium in bringing the diplomatic and honorary counsuls corps visibly closer to the Israeli public. I thank you with all my heart
Thessalia-Salina Shambos Ambassador of Cyprus
Dear Ambassador Eldan,
By the present, I would like to express my heartfelt gratitude for the kind and respectful reception that you, on behalf of the Ambassadors' Club organize on June 28, 2016, as "Meet the Ambassador".
At the same time, I would like to thank you for the nomination as Honorary President of the Ambassadors' Club of Israel. It will be an honor for me to participate and cooperate with you in the Ambassadors' Club activities and ideas.
Please accept dear Ambassador Eldan the assurances of my highest consideration.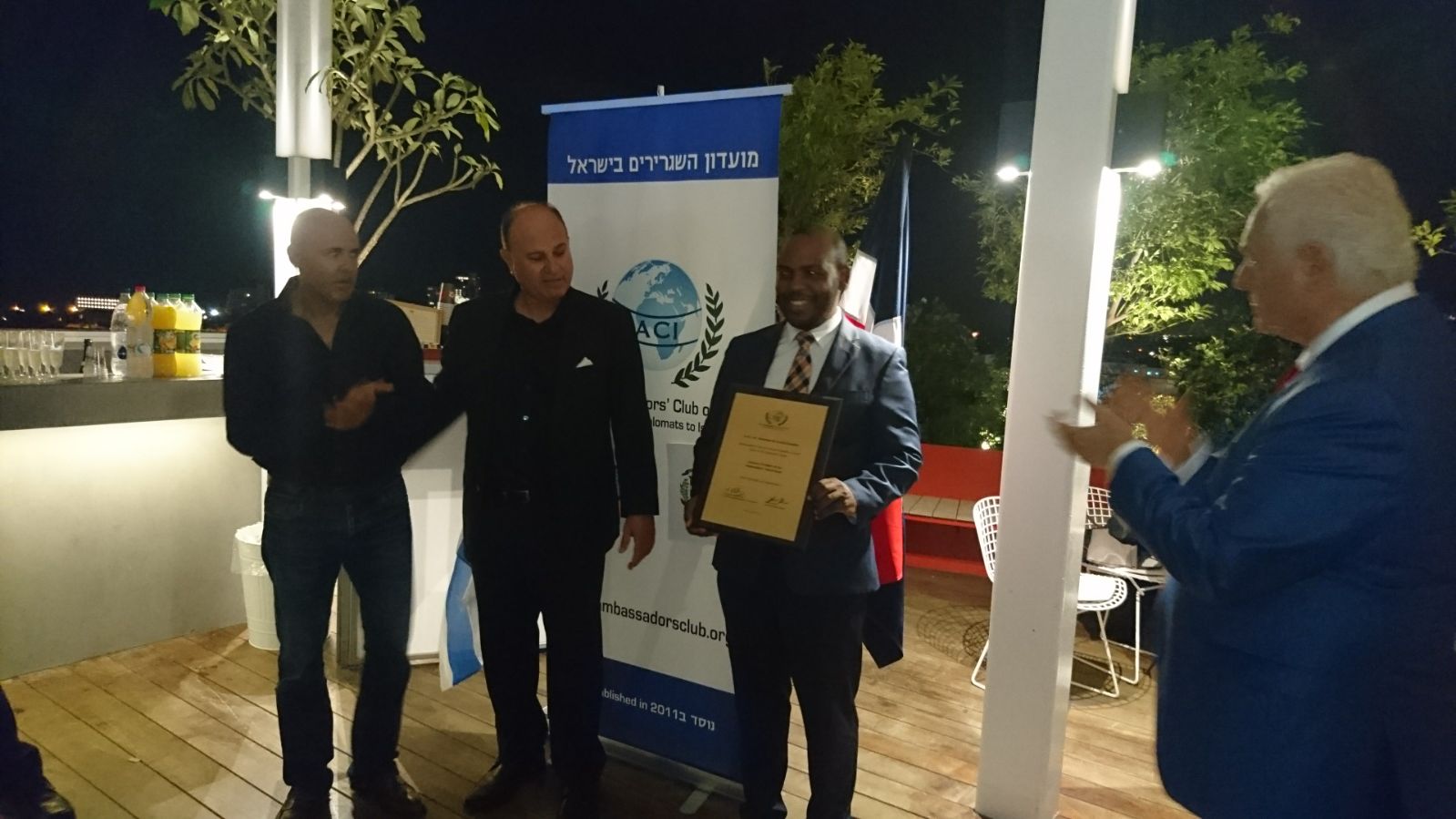 Alexander De La Rosa Dean of the Diplomatic Corps in Israel, Ambassador of the Dominican Republic
Dear Ambassador Eldan,
Dear Majors and all the persons involved in the trip to Dead Sea region.
I want to congratulate you and thank you for all the coordination and the friendly atmosphere which was created in order to receive us in such an awesome part of Israel.
The events which took place were all excellent and I am looking forward to remain in contact and see possibilities of concrete cooperation in specific projects in the future.
Esteban Penrod Ambassador of Costa Rica
Dear Ambassador Eldan,
I would like to thank you for the wonderful trip we had yesterday to the Dead Sea area, was a very good opportunity to learn more about Israel, develop new contacts and enjoy a day out of town.
My gratitude also to the staff of the Ambassador's Club of Israel.
Maria Gabriela Troya Ambassador of Ecuador
It was a delight, Yitzhak, and I'm in your debt for inviting me! You have created a wonderful group of people, and it was a pleasure and a privilege to contribute to them and to their understanding of Israel. Let me know if there are any other ways I can help you and your fine organization.
Tim Kelley World-renowned strategy expert
מר אלדן היקר,
בשם חברי ליאורה בית הלחמי ופרופ' אמנון כספי, ברצוננו להודות לך ולהעריך את יוזמתך להזמין אותנו להשתתף באירוע יוצא מן הכלל שארגנת – הטיול המרתק והאירוח הנדיב והחברה המרתקת שנמנית על מכריך וחבריך החשים קירבה והערכה רבה לך ולפעלך. אנו מדגישים שוב תודתנו והערכתנו בשאיפה ורצון כנה לשיתופי פעולה פוריים ומוצלחים מכאן ואילך.

דן ברניצקי נשיא המועדון מסחרי והתעשייתי
Dear Ambassador Yitzhak Eldan,
I wish to express my profound gratitude to the Ambassador's Club of Israel and the Israel Nature and Parks authority for the educative and insightful tour to the nature site on the Carmel Mountain in Haifa on 25th March, 2015.
I also wish to thank the organizers of the 2nd Regional Wine Festival, which was held on that day at Ramat Hanadiv in Zikhron Ya'akov, for their kind invitation that afforded us the rare opportunity to taste a large variety of Israeli made wines and other products.
Kindly pass on my sentiments to all who worked hard to make the day such an educative and enjoyable one, especially, Miss Shira Vondmgin of the Ambassador's Club, Mr. Hugo Jan Trago, Chief Executive Officer of Ramat Hanadiv and Mr. Uzi from the Israel Nature and Parks Authority.
Once again, thank you, and please accept the renewed assurances of my highest consideration.
Ernest S. Lomotey Ambassador of Ghana
Dear Ambassador Eldan,
I am completing my tenure of three years as the Ambassador of Sri Lanka in Israel and am scheduled to return on 30th September 2012.
It has been really encouraging to work closely with you at the time you were in office as the Chief of Protocol and subsequently as the president of the Ambassadors' Club.
With your initiative I have seen a lot happening in the Ambassadors' Club under your leadership and it is absolutely great. I am sure that the members will gain a lot more in the future.
I wish you good luck and all the very best for a bright future.
Air Chief Marshal (Retd.) Donald Perera Ambassador of Sri Lanka in Israel
I would like to express my gratitude to Reut Portugal and the Ambassador's Club of Israel for the lovely trip we took to four wonderful locations in the northern part of the country. The experience and knowledge acquired were excellent due to such a brilliantly explained tour. It was a total discovery for me because I had been to some of the spots we went to but never learned in depth so much about them. I again thank Ambassador Eldan and you for allowing me to accompany you in a most revealing trip.
Oscar S. Gonzalez Carmona Minister Counsellor
Embassy of Peru
Estimado Yitzhak,
Aprovecho esta oportunidad, para felicitarte por el nombramiento como Presidente del Club de Embajadores. Espero en noviembre, poder darte las felicitaciones personalmente. Muchos saludos.
Manuel Grinspun Cónsul honorario de Israel en Iquique, Chile
I wanted to thank Ms. Reut Portugal and Ambassador Eldan most sincerely for yesterday's excursion to the four world heritage sites recognized by UNESCO in northern Israel, three of which I have not had seen so far – Acco has obviously a special place in Austrian history going back to the crusades. But it was nice to see the caves in Mount Carmel, the Bahai gardens and the ancient site of Megido. Now I know better where to take visitors next time.
Thank you again for this lovely day and special thanks to the President of the Ambassadors' Club as well as to the Minister of Tourism.
Franz Josef Kuglitsch Austrian Embassy
Dear Ambassador Eldan,
I wish to thank you and express my appreciation for initiating the tour of UNESCO's World Heritage Sites in the north of Israel yesterday for the members of your esteemed Ambassadors' Club. The tour was superb and we enjoyed visiting the sites with excellent guides arranged by the Ministry of Tourism. I wish to thank also Ms. Reut Portugal for her excellent arrangement of the tour.
I look forward to other opportunities to participate and cooperate with the Ambassadors' Club.
Hideo Sato Ambassador of Japan
Dear Ambassador Eldan,
I have the honour to inform you that I will be leaving Israel today relinquishing my duties as Ambassador of the Republic of Korea in the State of Israel, upon completion of my assignment.
Pending the arrival of my successor, Mr. Heung-Kyeong Park, Deputy Head of Mission and Minister, will be in charge of the Embassy in the capacity of Charge d'Affaires a.i.
I would like to take this opportunity to express my deepest gratitude for the friendship, both official and personal, which you allowed me to enjoy with you during my mission in Israel, and sincerely hope that you will render the same hospitality and friendship to my successor.
Kim Il-soo Ambassador of South Korea to Israel
Dear Ambassador,
I would like to extend my sincere thanks to you and Israel's Authority of Land and Nature for organizing such a wonderful trip to the flourishing Carmel Mountain. It was very fascinating to witness such natural reserves in Israel. The visit of Zikhron Yaakov was wonderful and memorable.
I would also like to thank you for organizing the very successful "Diplo-Coffee" event. I am confident that such events will increase the interaction of Ambassadors with the local communities and eventually to strengthen relations between our two friendly countries by promoting economic diplomacy as well. I would love to attend similar events in future.
Wish you a very happy Pessach "Khag Samyakh". With best regards, Sincerely,
Prahlad Kumar Prasai Ambassador of Nepal in Israel
Dear Ambassador Eldan,
It was a great pleasure meeting you recently and I want to thank you for the information provided concerning your initiative to create a Directory of Foreign Diplomatic Missions in Israel.
I believe that the Directory is indeed a very worthwhile endeavour, which will assist the diplomatic corps here in Israel but also members of the Israeli Government and Industry as it will contain very useful information.
I would like to express to you my support and my readiness to recommend the Directory to any companies engaging in business between Cyprus and Israel that may wish to be advertised in it.
Dimitris Hatziargyrou Ambassador of Cyprus in Israel
Dear Yitzhak,
I have the pleasure of addressing you regarding your kind letter dated May 30, 2011, referring to the announced intention of The Ambassador's Club of Israel of publishing a "Directory of Foreign Diplomatic Missions in Israel".
In that regard, I wish to express my best wishes of a successful outcome of your initiative, which clearly reflects the same energy and dynamism that you invested thorough all the years that you served as Director of Protocol at the Ministry of Foreign Affairs in Israel.
Guillermo Lucotti Chargé d'Affaires
Embassy of Argentina
Dear Yitzhak,
Thank you very much for coming to see me to present your project for publishing a directory of the countries members of the « Ambassadors' Club in Israel ». This is a most commendable initiative, which deserves every support, as it will most certainly assist the work of the Embassies in different areas such as trade, culture, cooperation and consular affairs. The directory is potentially a showcase of the activities of the Embassy and, as such, should contribute to strengthen our bilateral relations with Israel.
I therefore wish you success in this endeavour and sincerely hope other sponsors will be forthcoming.
Maria Elisa Berenguer Ambassador of Brazil in Israel
To the President of
The Ambassador´s Club of Israel
Ambassador Yitzhak Eldan
Dear Mr. President and friend,
It is with great satisfaction and joy that we have received the details of the new website of the Ambassadors' Club of which you have been designated as the distinguished First President.
We applaud the creation of the Club as well as the launching of the website. Undoubtedly it will contribute to the creation and strengthening of the bonds between all the Ambassadors assigned to Israel. We wish you the very best in this new endeavor which will surely be as positive as were your prior activities as Head of Protocol.
We remember well the encounters, Seminars and activities we shared with you, as well as the very successful events we organized and had the enormous benefit of your substantial experience and help.
Again, in wishing you all the best, we hope and desire to maintain a permanent contact with you and we salute you with a very special Esprit de Coeur and Mazal Tov.
Alejandro Orchansky and Arthur Smith-Vaughan Israel Honorary Consuls Association in Latin America and Caribbean