A unique diplomatic event took place in Herzliya in honor of the non-resident Ambassador of Nauru to Israel Ms. Marlene Moses. An Award of Merit Ceremony for Ms. Marlene Moses, who also serves as the Ambassador of Nauru to the United Nations, was initiated and organized by the Honorary Consul of Nauru in Israel Mr. David Ben Basat under the auspices of the Ambassadors' Club of Israel. The dinner offered by Mr. and Mrs. Ben Basat was attended by the Minister of Foreign Affairs Israel Katz, Ministers, the Director General of the MFA, Members of Knesset, Honorary Consuls, the Ambassador of Israel to the Pacific Island States, and other distinguished guests.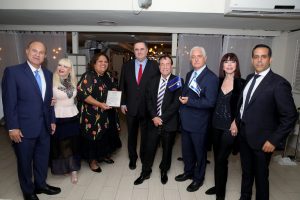 From left to right: Honorary Consul Yoram Naor, Mrs. Ben Basat, Ambassador Marlene Moses, Minister of Foreign Affairs Israel Katz, Honorary Consul David Ben Basat, Ambassador Yitzhak Eldan, Honorary Consul Ruth Amit Fogel, Honorary Consul Ami H. Orkaby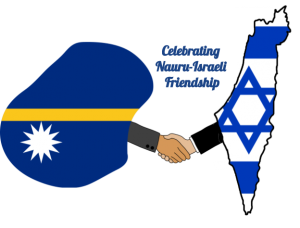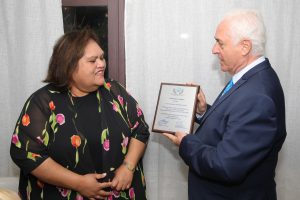 Ambassador Yitzhak Eldan awards Ambassador Marlene Moses a Certificate of Merit in recognition of her staunch support of Israel. This is the first time that a non-resident ambassador has received such a recognition.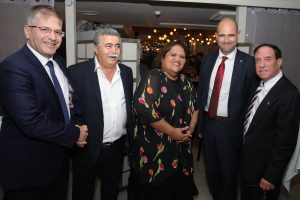 From left to right: Member of Knesset Yoav Kish, Member of Knesset Amir Peretz, Minister of Justice Amir Ohana, Honorary Consul David Ben Basat